T4 is a professional front-end software trading platform that offers the professional trader the ability to trade with ease, satisfaction, and total flexibility. T4 was designed to include rich, easy-to-use front-end functionality, along with maximum speed, customization capabilities, and a back-end that offers the trader extreme reliability.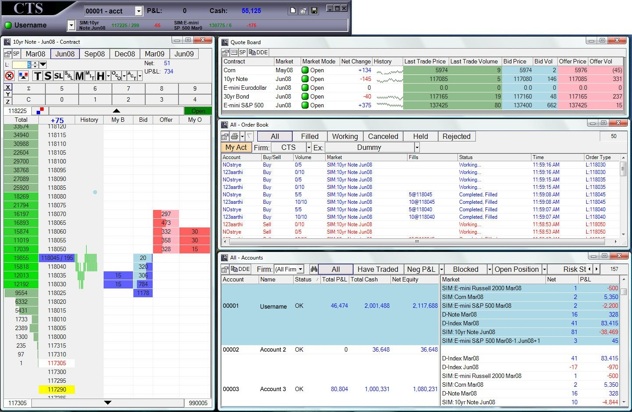 Flexibility and Functionality
T4 offers all the standard functionality any professional trader needs, along with many enhanced features. The system offers:
A fully customizable screen layout which allows you to modify fonts, colors, and columns with ease.
Simplified order book and account views.
Real-time quotes
Charts with more than 30 studies and indicators, a market profile and news
Connectivity to many of the world's largest exchanges at ONE cost, meaning you don't get charged for each additional exchange you trade
Real-time profit and loss and position updates
A position and P&L rollover feature
One-click order submission
Keyboard order submission
DDE functionality for all contracts
Multiple order books including a global order book, which allows you to view the entire session's activity on one screen
An expansive list of order types, including Market Orders, Limits, Stops, Stop-Limits, Trailing Stops, MITs, and GTCs, OCOs, and Auto OCOs
Advanced order types like market mode activation, time activation, and price activation
Clearing out of your order book and positions according to the exchange session hours–This allows the trader to only view orders and positions from the current session
Personal, 24-hour support
The stability of CTS's three robust, fully redundant data centers that will furnish fast, reliable market connectivity to those exchanges
The benefit of three front ends at one cost. The T4 front end provides the professional trader with plenty of tools to trade professionally. In addition, you also get access to the T4WebTrader, which is a browser-based front end. The Web trader is a "Lite" version of the T4 professional trading system, and can be used either by professional traders to view trades from any internet connection, or by less active traders who don't require use of a professional trading front end. The third is T4Mobile, which is available on the iPhone, iTouch, iPad, Palm-Pre and any Google phone
Advanced web tools that allow you to view your past order books and other account information online
Accessibility
With T4, you can trade from anywhere. Whether you are at home, in your office, or on the road, when you trade with T4 all you need is access to the internet and a computer, and you are ready to trade. T4 can be hard-wired to your firm's network or can easily be used at home via your home internet connection.
Trade all CME, CBOT outright Options including Equities, Financials, NYMEX, COMEX, KCBT and MGEX.
Customization
Create your own customized functionality or your own black box system using T4's available open API. For more API information, visit http://www.ctsfutures.com/t4api.aspx.
Try It!
Click here to experience T4 FREE for 2 weeks.
For a detailed listing of the prices associated with Cunningham Trading Systems (CTS) T4, please contact an LEM Commodities sales representative with any questions at +1 203 485-7508, or email us at info@lemcommodities.com.