GL WIN is a high-functioning futures trading platform. The GL WIN workstation is designed for complete order life-cycle management, from order sending to execution supervision and includes features such as real-time performance management, P&L and a complete range of multi-market data and news feeds.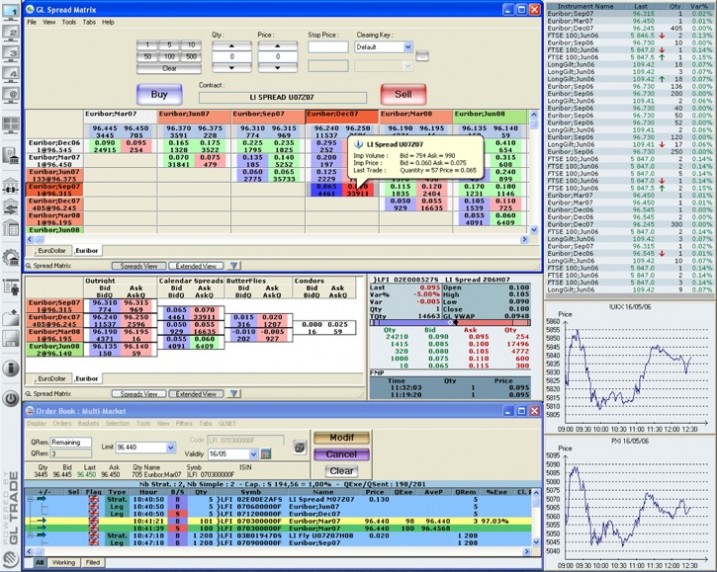 GL WIN is GL TRADE's multi-market data feed display and trading station for both cash and derivatives markets. GL WIN allows a complete life cycle management from order sending to execution supervision and measure of performance.
Speed: Fast order-sending, easy mouse-and-keyboard trading and efficient system architecture.
Accuracy: Global order book on all instruments and markets through one window, newswires and real-time charting analysis.
Control: Maintain complete view of your executions through one single window.
Performance: Evaluate your trading activity and react in real-time with VWAP and P&L calculation.
Modularity: From simple trading strategies to complex program trading needs, GL WIN offers a full range of advanced trading tools and data options, available in GL STREAM bundles.
Reliability: GL TRADE has been providing GL WIN for more than 15 years. It is used by more than 1,000 clients on some 35,000 screens worldwide–– the guarantee of a safe and dynamic investment.
For a detailed listing of the prices associated with Sungard GL Trade, please contact an LEM Commodities sales representative with any questions at +1 203 485.7508, or email us at info@lemcommodities.com.